Cool: Apple introduces Mighty Mouse.
Meet the mouse that reinvented the wheel. The scroll wheel, that is. At $49, Mighty Mouse features the revolutionary Scroll Ball that lets you move anywhere inside a document, without lifting a finger. And with touch-sensitive technology concealed under the seamless top shell, you get the programability of a four-button mouse in a single-button design. Click, roll, squeeze and scroll. This mouse just aced the maze.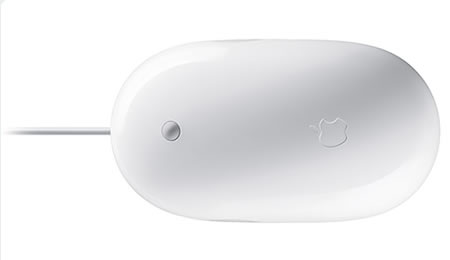 Al dacht ik eerst dat het om een late aprilgrap ging (hoe lang voor er een andere bijnaam voor die muis komt?) En is aan die naam geen trademark (of zo) verbonden?
Mighty Mouse is an animated superhero mouse character created by the Terrytoons studio. He was created by storyman Izzy Klein as a super-powered housefly named Superfly, but studio head Paul Terry changed the character into a Toon mouse instead. He was originally created as a parody of Superman, and he first appeared in 1942 in a theatrical animated short entitled "The Mouse of Tomorrow". The original name of the character was Super Mouse, but it was soon changed to Mighty Mouse when Paul Terry learned that another character with the same name was being published in comic books. [Bron: Wikipedia]
Al zullen ze wel een deal hebben gemaakt:
Like its namesake, Mighty Mouse puts powerful precision in a pint-sized package. With all its clicking capability tucked neatly under the seamless top shell, Mighty Mouse boasts drop-dead good looks, too. And then there's that ingenious Scroll Ball — the tiniest such mechanism ever used in an input device. No wonder it's a wonder.