Er bestaat geen universele definitie voor tea cake (moet het overigens in één of twee woorden geschreven worden). Wikipedia zegt er dit over:
The name is commonly used for whatever bread or cake is traditionally served for afternoon tea within a region, but can be applied loosely to any kind of cake that is sturdy enough to be picked up with the fingers.
Deze tea cake is droger dan een muffin, en verdraagt daardoor zeer zeker een schepje zure room of een dot clotted cream. Hoe u ze ook eet, lekker zijn ze in elk geval. Voor dit recept heb ik mij opnieuw laten inspireren door Tartelette, die Raspberry Pistachio Teacakes maakte.
Benodigdheden
Goed voor een dozijn tea cakes.
60 gram onverwerkte (dus niet gezouten!), maar gepelde pistachenoten
100 g (donker)bruine suiker
2 eieren
113 g ongezouten, bewerkbare, boter (op kamertemperatuur of iets warmer)
een koffielepel vanille-extract
200 g patisseriebloem
een snuifje zout
een koffielepel bakpoeder
een handvol gedroogde veenbessen (of eventueel rozijnen)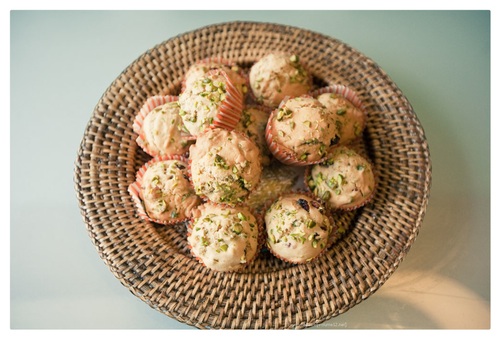 Zo gemaakt
Verwarm de oven voor op 175°C.
Hak de pistaches in stukken. Zeef de bloem met het zout en het bakpoeder.
Klop de boter en de suiker luchtig (ongeveer twee-drie minuten met een elektrische mixer) op medium snelheid. Verlaag de snelheid en voeg er achtereenvolgens de boter, het vanille-extract, en het bloemmengsel aan toe. Verhoog de snelheid opnieuw tot halfhoog, en meng nog een halve minuut.
Meng manueel ongeveer twee derde van de pistaches en het handvol gebroogde veenbessen onder het beslag. Verdeel over twaalf porties, en sprenkel er de rest van de pistaches over.
Bak gedurende een twintigtal minuten, of tot ze (licht) goudbruin zien.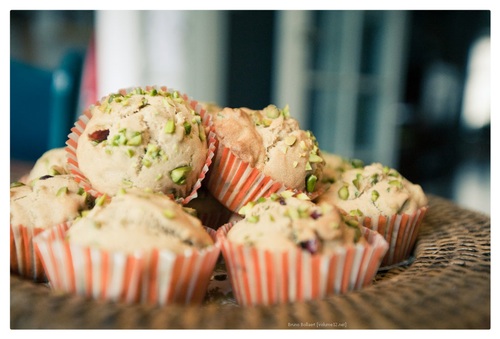 Smakelijk!