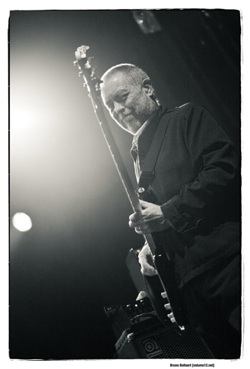 Begin deze week schreef Patrick Jarenwattananon van NPR over de nieuwe site van bassist Dave Holland. Tot 15/02 (nog twee dagen dus) kan u aldaar een live opname, de eerste in een reeks van Archive Series, van het Dave Holland Quintet uit 2007 downloaden. Naast Dave Holland op bas, spelen ook Robin Eubanks (trombone), Steve Nelson (vibrafoon), Chris Potter (saxofoon) en Nate Smith (drums) mee.
Voor minder dan een euro (1 dollar om precies te zijn) kan u het album legaal downloaden in 320 Kbps mp3; of voor 3 dollar in FLAC, Apple Lossless, Apple Lossless en FLAC, of de originele AIFF bestanden. Binnenkort kan u er ook voorintekenen op de nieuwe cd, Pathways, het 'debuut' van het Dave Holland Octet. Wie dan voorintekent op de cd, kan meteen ook het album downloaden.
U vindt het allemaal op de (schreeuwlelijke) nieuwe Dave Holland site!