Ziet, ik was nog vergeten mijn schrijfsels voor Gentblogt te vermelden. Veel filmfestival, maar geleidelijk aan wordt het opnieuw meer jazz. Veel leesplezier.
(artikels vorige maand)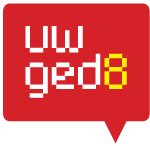 Ga trouwens eens kijken naar het nieuwste erm… project van Het Project: uwged8. Gentblogt's wekelijkse top 8 van de beste Gentse muziek, uwged8, wordt samengesteld op basis van de top drie die u (en u, en u, en u) ons doorstuurt.
Wacht, ik knip en plak even van bij Patricia en van bij Michel: Kies uw favoriete top 3 van Gentse muziek van nu of vroeger, boenke boenke, rock of kleinkunst, maakt niet uit (ja, ook jazz!). "Gents" wordt daarbij redelijk ruim genomen: minstens één van de groepsleden woont of studeert in Gent, en verder zijn wij daar niet sectair in.
Geef uwged8!