Dit zou wel eens mijn laatste lijstje van dit jaar kunnen zijn, al zijn er nog twee zaken waar ik mijn oog heb op laten vallen. (Must. Resist. Temptation.) Edoch: zo een schoon aantal/getal.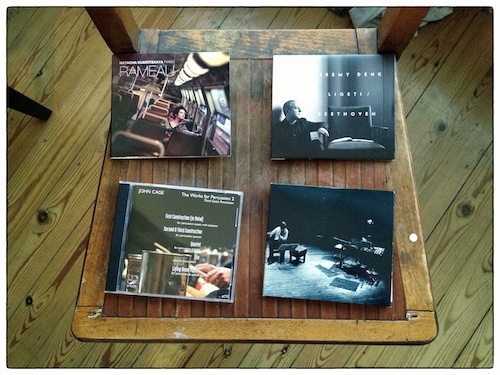 Rameau : Suite en Ré; Suite en La / Natacha Kudritskaya / 2012
Cage : The Works for Percussion 2 / Third Coast Percussion / 2012
Ligeti / Beethoven / Jeremy Denk / 2012
Feldman : Crippled Symmetry, Live At June In Buffalo / The Feldman Soloists / 2012
Die laatste drie komen van Alex Ross, geen idee meer hoe ik bij die Rameau terecht gekomen ben. 't Is een mooie interpretatie –ik wou wel eens wat anders dan Tharaud– maar een slechte opname (klinkt heel wollig en veraf, gelijk er zo'n music hall-effect op gezet is.). Ik zou de Allemande van de Suite en la graag zelf spelen, maar ik vrees dat het voorlopig nog wat te hoog gegrepen is.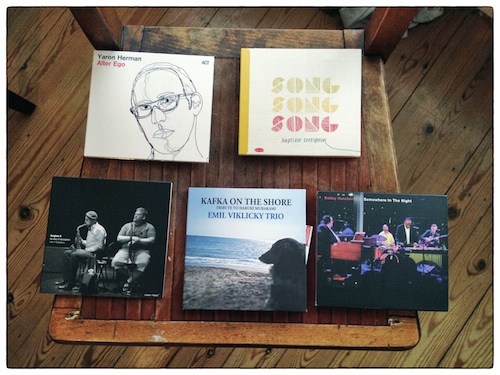 Alter Ego / Yaron Herman / 2012
Song Song Song / Baptiste Trotignon / 2012
By Way of Deception – Live in Ljubljana / Angles 8 / 2012
Kafka On The Shore / Emil Viklicky Trio / 2012
Somewhere In The Night / Bobby Hutcherson / 2012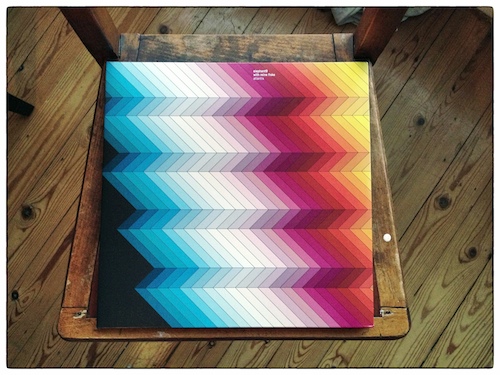 Atlantis / Elephant9 with Reine Fiske / 2012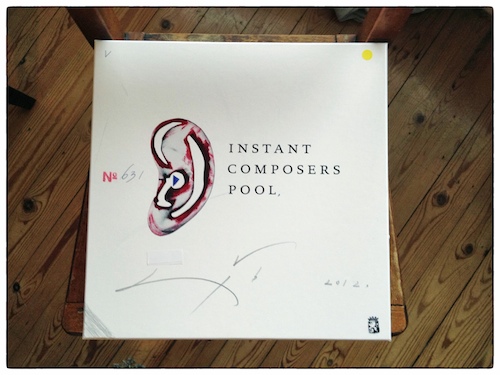 In 1967 stichtten Misha Mengelberg, Han Bennink en Willem Breuker de Instant Composers Pool (ICP); niet zolang geleden brachten ze hun 50e album uit, en 2012 spelen ze 45 jaar samen. Om dat allemaal een beetje te vieren, kwam er een gelimiteerde ICPBOX, waarvan elke exemplaar handmatig bewerkt werd door Han Bennink. In de doos zitten o.a. 52 cd's en 2 dvd's, een fotoboek, en een blueprint van de camel-chair.
ICP 000
ICP 001 Willem Breuker/Han Bennink New Acoustic Swing Duo
ICP 002 Misha Mengelberg/Han Bennink/John Tchicai Instant Composers Pool
ICP 003 Willem Breuker Lunchconcert for three barrelorgans
ICP 004 Han Bennink/Derek Bailey
ICP 005 Misha Mengelberg/John Tchicai/Han Bennink/Derek Bailey Fragments
ICP 006 Misha Mengelberg/Paul Rutherford/Peter Bennink/Peter Brötzmann/Evan Parker/Han Bennink/Derek Bailey Groupcomposing
ICP 007 Various musicians Instant Composers Pool
ICP 008 Various musicians Instant Composers Pool
ICP 009 Willem Breuker The message
ICP 010 Misha Mengelberg/Han Bennink Instant Composers Pool
ICP 011 Han Bennink Solo
ICP 012 Maarten van Regteren Altena Handicaps
ICP 013 Misha Mengelberg/Han Bennink Midwoud '77
ICP 014 Misha Mengelberg/Han Bennink Einepartietischtennis (also FMP SAJ-03)
ICP 015 Eric Dolphy Epistrophy
ICP 016 Steve Lacy Lumps
ICP 017 Misha Mengelberg/Han Bennink Coincidents
ICP 018 Misha Mengelberg/Han Bennink Coincidents
ICP 019 Maarten van Regteren Altena Tuning the bass
ICP 020 ICP 10-tet Tetterettet
ICP 021 Dudu Pukwana/Han Bennink/Misha Mengelberg Yi yole
ICP 022 ICP Orchestra Live Soncino
ICP 023 Misha Mengelberg/Han Bennink Bennink Mengelberg
ICP 024 Misha Mengelberg & ICP Orchestra Japan Japon
ICP 025 ICP Orchestra Extension red white and blue (Herbie Nichols)
ICP 026 ICP Orchestra Two programs: Herbie Nichols/Thelonious Monk
ICP 027 Han Bennink Solo video
ICP 028 ICP Orchestra Bospaadje konijnehol I
ICP 029 ICP Orchestra Bospaadje konijnehol II
ICP 030 Misha Mengelberg Mix
ICP 031 Misha Mengelberg/Han Bennink MiHa + Anniversary book
ICP 032 Wolter Wierbos X caliber
ICP 033 Tobias Delius 4 Tet The heron
ICP 034 Tobias Delius 4 Tet Toby's mloby
ICP 035 Han Bennink Solo (video)
ICP 036 Tristan Honsinger A camel's kiss
ICP 037 Steve Beresford/Han Bennink B + B (in Edam)
ICP 038 Mary Oliver Witchfiddle
ICP 039 Tobias Delius 4 Tet Pelikanismus
ICP 040 ICP Orchestra Oh, my dog!
ICP 041 ICP Orchestra
ICP 042 ICP Orchestra Aan & Uit
ICP 043 ICP Orchestra Weer is een dag voorbij
ICP 044 Misha Mengelberg Afijn
ICP 045 Baars/Bennink/Glerum/Honsinger/Mengelberg/Petrucco Circus
ICP 046 ICP Orchestra Live at the Bimhuis
ICP 047 Mary Oliver & Rozemarie Heggen OH-HO
ICP 048 Luftlucht Tobias Delius 4tet
ICP 049 ICP Orchestra
ICP 050 !ICP! 50