…ik kom terug met cds natuurlijk.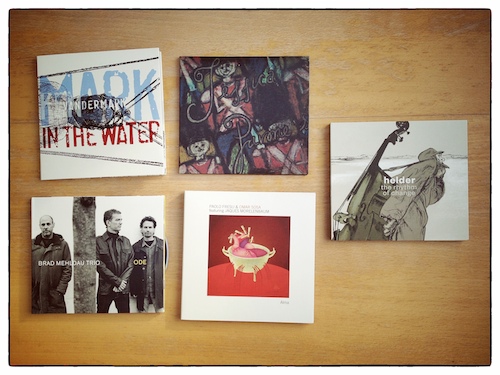 Mijn vrienden van Rombaux brachten voor mij mee:
Mark In The Water / Ken Vandermark / 2011
De tweede soloplaat van multirietblazer Ken Vandermark; elke compositie is opgedragen aan een andere muzikant.
Brad Mehldau Trio / Ode / 2012
Kijk, het zijn de mensen die binnenkort op Gent Jazz staan. Dat wil ook lukken. Een uitstekende cd alweer, zo gonst het.
Army of Strangers / Jessica Pavone / 2011
Benieuwd of ze even sterk gegroeid is als Mary Halvorson.
Alma / Paolo Fresu & Omar Sosa / 2012
Dat kan alleen maar lyrisch zijn.
En in de foyer van De Bijloke stak een bijzonder sympathieke man mij deze cd in de handen, met de boodschap dat ik daar maar eens naar moest luisteren.
The Rhythm of Change / Helder / 2012
Voluit Helder Deploige, met een tekening van Dooreman op de cover. Hierzie, op YouTube: titeltrack The Rhythm of Change en My Private Joke