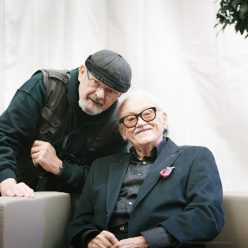 Een maand geleden is Jos L. Knaepen overleden. Jos was de meest bekende jazzfotograaf van Vlaanderen en omstreken, met een faam die tot ver buiten de landsgrenzen reikte. Zijn foto's werden gebruikt in o.a. Downbeat en Jazz Times, en door het Smithsonian Institute bij de verjaardagsspecial over Wynton Marsalis. In 2008 exposeerde hij in het American Jazz Museum in Kansas City, en werd hij door de Jazz Journalists Association (JJA) ook genomineerd voor de Excellence in Photography Award. Wie naar Gent Jazz Festival of Jazz Middelheim komt heeft zijn foto's zeker al gezien, op de levensgrote spandoeken die verspreid over het festivalterrein zijn opgehangen. En Jos was ook huisfotograaf van Jazzmozaïek. Van bij het ontstaan tilden zijn foto's het tijdschrift op een hoger niveau.
Jos was ook een vriend.
Hij was al een tijdje ziek, en de laatste weken voor zijn dood was er duchtig gecommuniceerd, voornamelijk met Tessa. Eerst met Jos zelf, en nadien met Greet, de onmisbare Greet die al vijftien jaar deel van zijn leven uitmaakte. Er was hoop, veel hoop, maar uiteindelijk zou de meedogenloze realiteit zoals steeds de bovenhand halen. Jos liet de laatste levensadem in de armen van Greet. Zijn Greet.
Toen ik iets meer dan tien jaar geleden voor het eerst naar Opatuur trok, had ik nog niet van hem gehoord. Ik was helemaal nieuw in het jazz wereldje, waarin ik hardnekkig zou blijven plakken. Een paar maanden later was er het Blue Note festival (editie 2005), en via Gentblogt kwam ik daar vlotjes bij de fotografen in de frontstage te staan. Eén fotograaf stak er met kop en schouders bovenuit, niet zozeer door zijn gestalte, maar wel door de ogenschijnlijke bedaardheid waarmee hij eerst de scène overschouwde, en vervolgens doelbewust een paar foto's ging maken. Hij had een gigantische lens op één van zijn toestellen zitten, en stond vaak aan de zijkant rustig te kadreren, geholpen door een monopod, afwachtend tot de artiest net op die manier in zijn lens kwam gesprongen als hij voor ogen had.
Achteraf hoorde ik dat die man Jos Knaepen was (met vaak die 'L.' daar nog tussen), en bekend stond als de jazzman. Hij was de officiële festivalfotograaf. Gaandeweg heb ik Jos beter leren kennen, en hoewel hij uiterlijk veelal rustig blijft, had hij een gefundeerde mening over zijn vak. Een visie, die hij graag deelde met de minder ervaren fotografen. Fotograferen is kijken en zien, stelde Jos. Observeren hoe zo'n artiest zich gedraagt, en dan weet je gewoon wanneer die goede foto eraan komt. Wie zich openstelde voor de feedback van Jos, leerde met bakken bij.
Jos maakte die foto's als vakman. Vaak werkte hij digitaal omdat de foto's nu eenmaal snel nodig waren, maar het liefste van al werkte hij analoog. Naar Gent Jazz Festival bracht hij een halve studio mee, inclusief flitsers en achtergrond, om de grootheden uit de jazz op een deftige manier te kunnen portretteren. Hadden ze geen zin, dan hadden ze geen zin, maar ze waren dun gezaaid, de muzikanten die niet voor zijn camera wilden plaatsnemen.
In de zomer van 2014 werd mij gevraagd om Jos te interviewen voor Jazzmozaïek. Jos had net de Muze van Sabam gekregen, en Bernard Lefèvre had mij in de persruimte van Gent Jazz Festival even apart genomen om mij —buiten het hoorbereik van Jos— daarover te polsen. Jazzmozaïek had mij al een paar kreeg halvelings gevraagd om een interview af te nemen van deze of gene muzikant, maar ik had die boot altijd afgehouden: ik durf dat niet.
Jos bevragen, dat was iets anders. Jos was ondertussen een vriend geworden, en we deelden die twee onvergankelijke liefdes: jazz en fotografie. We spraken af om dat interview te laten plaatsvinden op Jazz Middelheim, waar we tijdens de soundcheck de perstent voor onszelf hadden. Voor we het wisten hadden we goed drie kwartier vol gepraat, en we zijn eigenlijk alleen gestopt omdat de volgende groep aan de soundcheck begon, en we elkaar niet meer konden horen door de muziek.
Jazzmozaïek had slechts een paar paragrafen nodig, en voorzag (vanzelfsprekend) veel meer plaats om de foto's zelf te laten spreken. Misschien publiceer ik het interview hier binnenkort nog wel eens integraal.
"Jazz is about being in the moment.", moet Herbie Hancock ooit gezegd hebben. Wel, daar was Jos ook altijd te vinden, met zijn camera in de aanslag om dat moment décisif vast te leggen. Ik ben zo ontzettend dankbaar dat ik hem heb mogen kennen.