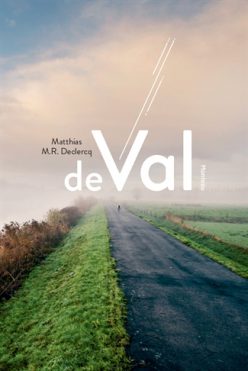 Matthias M.R. Declercq schrijft voor o.a. De Morgen, Humo en het wielertijdschrift Bahamontes, zo vertelt de blurb mij op de achterkant. Ik heb een flinke maand geleden voor het eerst dat laatstgenoemde tijdschrift in huis gehaald, maar nog geen tijd gevonden om het effectief te lezen.
Het leek mij echt iets voor u, beweerde mijn wederhelft, toen ik ermee thuis kwam. Ze had het al eerder zien liggen maar had het niet durven meebrengen, omdat ik nogal eigenaardige kronkels in mijn hersenen heb, betreffende het ontdekken van dingen. Of ze had het gezien en was het gewoon vergeten, euforisch als ze enkele ogenblikken later was om de nieuwste Elle, die even verderop in de rekken lag.
Maar goed, als schrijven voor de Humo of De Morgen niet meteen een referentie mag zijn —tenzij uw naam Douglas De Conink is— dan kon Bahamontes alvast een passie voor het wielrennen betekenen. Declercq fietst bovendien ook zelf, stelt die blurb verder nog, en voegt daarbij woorden als jaagpad en Schelde toe, wat natuurlijk perfect past in het kraam van de marketing van een boek dat gaat over vijf wielrenners die samen op dat jaagpad langs de Schelde fietsen.
Het debuut van Declercq is geen fictie. Opnieuw een argument vóór, want met de goede fictie is het dun gezaaid in Vlaanderen. De schrijfstijl van Declercq kon in eerste instantie nochtans niet echt bekoren. Verwacht u niet aan zwierig proza, een stilistisch sterke pen of lang uitgesponnen zinnen. Declercq schrijft documentair, met de korte zinnen, kenmerkend voor Amerikaanse thrillers die het de lezer gemakkelijk willen maken om het verhaal te volgen. Structureel zit het alvast goed in elkaar. Declercq geeft duidelijk te volgen aanwijzingen voor de plot, herhaalt waar nodig en zonder overdrijven, en weet op gepaste momenten de lezer duchtig bij de keel te grijpen. Er is meer dan één moment waarop het boek werd dichtgeklapt om tranen te voorkomen.
De Val, als boek, is gedoemd om te verdwijnen in de annalen van de literatuur. Het wordt hooguit een voetnoot, net zoals de geschiedenis die het boek vertelt, net zoals minstens vier van de vijf jongens wiens levensverhaal hier uit de doeken wordt gedaan. De wielrenners die niemand kent, de tragiek van de alledaagse realiteit. De Val is een verhaal dat als fictie niet zou werken, omdat het te archetypisch is voor die Vlaamse tragedie, waarin de personages zich wanhopig en bij voorbaat gedoemd trachtten te ontrukken uit de Vlaamse klei. Declercq weet van deze gebeurtenissen echter een beklijvend verhaal te maken, ondanks het weinig creatieve proza; meer zelfs, eentje dat het verdient om gelezen te worden. Want ook dat is typisch Vlaams: er is steeds te weinig aandacht voor de voetnoten.
Matthias M.R. Declercq, De Val. Manteau, ISBN 978 90 223 3121 7